Tanzeem joined Transformation Fit in December 2020, with the goal of losing weight, becoming more active, and getting back in to a routine with her fitness.
When lockdown 2.0 was announced for November, Tanzeem decided to go and stay at her parents place so she could spend time with her family and not be couped up in her flat for the duration of lockdown!
Whilst being back at home, she started sorting through her old clothes to decide on which ones to throw, which to keep, etc…
She was trying on her clothes to decide which she liked but soon realised that NONE of her old clothes fit her due to the recent weight gain from lockdown. She realised she had been unconsciously neglecting her health and fitness, which all of a sudden left her feeling body conscious and deflated.
Not long after this she saw an advert for TF, which caught her eye as she knew she needed to do something about her health, but lacked the structure and the motivation to do it alone!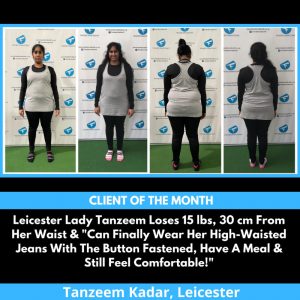 Tanzeem was very nervous about coming into the gym, after having 2.5 years of not being in one, but with the help of the trainers she soon settled in. She got organised with her training, and started to gradually lose the weight, and improve her fitness..
Fast forward a few months of attending sessions on zoom during lockdown 3.0, and more recently back in our private studio as well as following our nutrition coaching, she's now lost over a stone, as well as 30 cm from her waist, which means she can finally wear her high waisted jeans again with the button fully fastened!
Here's what Tanzeem has said about her TF journey so far:
"I was nervous going into the gym in December 2020 as I hadn't been to a gym for approximately two and a half years. I was welcomed and put at ease right away. I didn't stop there, with the support of the trainers I organised myself into sessions I wanted to complete and setting a realistic weight loss goal following a meal plan.
After following the advice and support offered by each of the trainers, I've found myself losing the weight gradually. Albeit challenging. The training sessions have pushed me to my limits, I struggled with these initially and now I'm finding myself doing much more than what I ever imagined I would be.
I feel proud to have achieved so much within a short space of time. I can finally wear my high waisted jeans with the button fastened, have a meal and still feel comfortable. It's been an incredible feeling! This has been a massive achievement for me and I feel on top of the world. I can't wait to see family and friends who haven't seen me over these lockdown periods to have a double take. LOL.
Attending Transformation Fit has been a confidence booster, being greeted by a welcoming community and most importantly at my pace. I am so so grateful to be a part of the team. The trainers have a lot to offer and there are always creative incentive initiatives to keep you motivated!
The experience so far has provided me insight, you only become stronger by putting in the effort every single time to achieve the results you want. My journey isn't over yet, I feel like I've only just begun. I'm eager to become stronger, lighter and much fitter. I know this is doable with the terrific trainers and the rest of the Transformation Fit community supporting me!
A heartfelt thank you to Lewis, Rob and Nathan, I wouldn't have made it this far without each of you."
– Tanzeem, TF Client Of The Month
At TF, we have been really busy welcoming our community back into the studio, and the results from the last few weeks have been immense!
We have a few more spots left for people to join so that they can lose weight, get fitter and get their confidence back in time for Summer. If you're looking to get yourself back on track after lockdown, then text us the words "STRONG" to 07419 810958, and I'll send you the info
Chat soon,
Josh