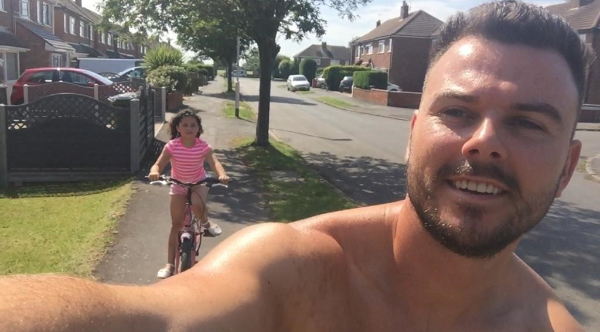 Last week I was having a conversation with someone… Let's name her "Karen".
She was telling me about how she needs to lose weight, struggles with low mood, struggles to get out of bed in the morning, and doesn't sleep well at night.
I suggested that one of the most powerful ways you can combat all those negative things is to get moving more and add some exercise in your life…
To which her reply was: "I Don't Have Time To Exercise – I've got kids Josh"
Now I know what you're thinking… "It's ok for you – You work in a gym, of course you're gonna say that" – And you'd be correct but the reality is that I have the same stresses you do;
– I am busy running my business, I get stressed and struggle to switch off
– I do the school run 4 days per week, alongside gymnastics class drop offs etc, which takes time and effort
– I live alone which means when I have my daughter with me, there is no "nipping out to the gym" for half an hour
– When I am at my gym, I am working – not standing around doing pull ups, and eating chicken and broccoli out of plastic microwaveable containers.
So I too struggle to get the time to exercise.

Now having Kids as may well know can be stress-full, not only are you expected to look after yourself but you also have to run around after your little human, making sure they're hydrated, packing school bags, pack lunches, doing school runs etc…
And the reality is, it's hard to make time to look after yourself, alongside working, and children etc
BUT – as I said to Karen…

"Making time to work on yourself is even more IMPORTANT when you have children!"
Constantly making excuses about how you don't have time to look after yourself, eat healthy or exercise because of your kids, is the same as blaming your children for something that is your personal responsibility.
It's up to you to demonstrate to them how to be healthy, how to look after themselves and to install a sense of self-worth inside them.

Your kids will grow up and do as you do, not do as you say!
So make sure you're setting the right examples to them by showing and not just saying.
So if you struggle with the above, but you're still not sure how you can make this work,
Here's my best tips to start making time to exercise around your kids so you can improve your mood, sleep better at night, lose weight, have more energy and raise healthy & happy kids.
1. Home workouts – You need ZERO equipment or fancy gym memberships to exercise. Simply stick Youtube on your TV/laptop, Type in beginners home workout and go, start with 5 minute workouts and work on increased time duration or intensity. Get the kids to join in and make it a family affair!
2. Play "Catch Up" (my personal favourite) – The game works like this…
1. You stick your child/children on their bike
2. You try to keep up with them on foot.
3. Stop off at the park (so you can rest and recover)
4. Repeat steps 1&2 to get home.
3. Take the kids to Bradgate park – Bradgate is beautiful this time of year, so get your wellies on, wrap up warm and get some steps in, make this a weekly event with your kids and make it a game, see how many steps you can do in 30,40 mins etc
Both your kids as well as your body will thank you for it.
Are you a member of our free "Facebook community group "Get Fit Leicester"?
We regularly update the group with helpful advice as well as home workout routines you can do yourself with zero equipment.
Click this link to join the community
See you on the inside,
Josh